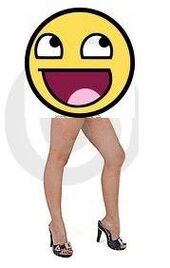 Hoar is the personal secretary of Nintendoki. She appeared in the first Chapter to test the wothines of the new members of Smoosh by summoning a pair of evil penguins for them to fight. As her name implies, Hoar is promiscuous in nature, often flirting with the male members of Smoosh with little success. She also appears to have a personal grudge against Luna Ravenheart, likely for stealing Smoosh away from her.
Hoar appeared in the first Chapter of the Insane Quest, where she was tasked with testing whether or not the new Smoosh members were capable of being useful servants for Nintendoki. After rescuing Luna from Chibi, Hoar was more or less ditched by Smoosh in favor of Luna and her Flying Bison, Appa. After an unsuccessful attempt to win back the members of Smoosh, Hoar disappeared for quite some time.
Hoar returned again in Chapter IV, where she was seen staying in Hell, where she met Hades,. As part of a deal with Hades, Smoosh tried to set him and Hoar on a date. After eating the food prepared by Smoosh for a romantic dinner, Hoar had an allergic reaction, causing her to vomit uncontrollably before running off. It is unknown whether or not she'll appear again.
-Hoar was most likely originally created to serve as a main character and Smoosh's guide for the duration of the Insane Quest. Instead, she was replaced by Luna.
-Because Smoosh encounters Hoar in Hell, it is possible that she died some time between Chapters I and IV. If this is true, it is hard to say whether or not she'll return.